Times change!
I know because I have witnessed almost seven decades of life and I can tell you that times change.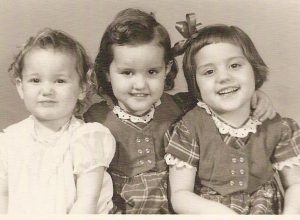 I can remember being four years old, living in sunny CA. I had two sisters younger than me and we were all a year apart. I can see us playing on the front stoop of our home. We were pulling dead pine needles off of the Christmas tree to put in our mud pie cakes.
When I was between the age of eight and fourteen we lived in ID. Summer days are clearly etched into my mind. We ran in a large pack of kids all summer. We played soldiers and nurses (a sign of our time), we swam in the canal and played in the gravel pit. We walked the few blocks to the local grocery store for penny candy (it really cost a penny). I remember finding large rocks in the field, painting them with mud and decorating them with flowers and leaves (a forerunner to almost 50 years of professional cake decorating).
I can remember times that my siblings and I laid out under the stars looking for the milky way or doing the same on a hot summer afternoon searching the clouds as they changed shape from a dinosaur to a huge fish, to a funny long nosed clown or a slow moving turtle.
Those summer days were filled with simple pleasures. We spent our time doing what kids did back then, playing together outdoors, using our imaginations and warding off the sometimes summer boredom. We didn't dare take that complaint indoors to a parent because it meant work.
But times change. The world is a bit less safe. What kids do for fun has changed. But most of all we have lost the freedom of long, lazy, empty summer days.
Today there is far less down time for kids and families
Here is what I notice when I am mentoring mothers and fathers. There is a feeling that somehow they are just not measuring up. There is the feeling that they need to give their kids more – more lessons, more opportunity to see the world, more trips to the water park, more organized activities. There is the desire to fill their days with things that will give them a leg up in the world.
I want to remind parents that it is valuable to step back and remember that often less is more! That simplicity opens space in a family for Presence, for the opportunity to really create and cement relationships. There is great value in simplifying your calendar in the summer so that there is time to just be together as a family.
What really makes kids happy?
In a study of thirteen to twenty-four-year-olds conducted by the Associated Press and MTV, more than 100 questions were asked of 1,280 young people. The questions were all centered on determining what made these youth happy. Can you guess the number one answer? Spending time with family! Yup, that's right, spending time with family. These kids and young adults were ages thirteen to twenty-four. (Associated Press, "Youth Happiness Study"). Does this surprise you?
Relationships are built when we learn to be Present with another human being. It requires that we hear and see our children and youth. We can do that best when we are less stressed, less overwhelmed, less busy. We accomplish this as we simplify our calendars, especially in the summer.
Recently I asked my children, their spouses, my cousins and friends what were the best memories they had from when they were kids. Here is a small sampling –
-I remember our family on the fourth of July at the park having a picnic.
-I loved … sitting in the dark with the Christmas lights on in the living room.
-I loved New Year's Eve and the cheese and meat tray that we ate while sitting on the floor watching a movie.
-I remember our walks together…
-I remember and me sitting under the table reading a chapter of Katie John together.
-I remember mom reading us a chapter each night from Old Yeller. I loved the inflections in her voice, that undivided time with her and the comfort of our warm bed.
-My mom used to sell Avon, and she would keep all the big boxes her orders came in. We used the boxes to makes houses to play in. It was so fun!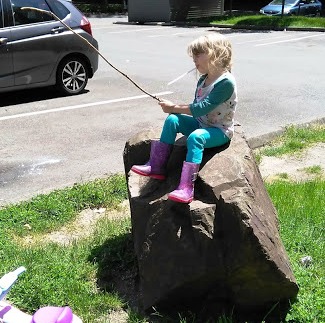 Do you notice how simple these things are? They all involve being home with family. They all required down time. They required very little money and no car time. Children need time to be with their siblings and parents. They need and want time to play with other kids un-managed by adults. It helps develop important skills. They want to lay in the grass and 'waste a bit of time' staring at the stars.
We are almost finished with July and will be moving into August. Some families return to school in mid August. Wow, the summer is almost gone. Why not take a look at your family's calendar. Take a hiatus from some of your classes, organized activities, planned trips or events. Make room to see, hear, and respond to your family members by simplifying how much time you spend away from home.
It is valuable to remember that sometimes less is more! What can you do to find more at-home family time this summer?
P.S. You can learn more about the power of simplifying in my new book Becoming a Present Parent, Connecting With Your Children in Five Minutes or Less, there is an entire chapter on this one topic.
I invite you to visit becomingapresentparent.com and get a FREE chapter of the book. It's called Utilizing Touchpoints and it can be life changing for your family. I promise!
If you like this post, please share it with your community.