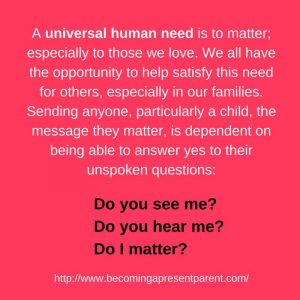 When we moved to Laurel, Montana over 3 decades ago it was a jolt. We had lots of little kids and we didn't know anyone. We had no family in Montana and no one we knew had ever lived there.
The second week in our new town we got a visit from an older woman who was part of the religious community we would be joining. We hadn't even been able to attend yet. To our knowledge, very few people knew we had moved to town. But here on my doorstep was Millie Giovetti, a woman who was destined to become our dear friend. In her hands, she held two homemade pies. Not one, two! She had taken the time to find out a bit about this new family who had moved into her neighborhood and church. She knew that there were seven of us. She understood that two pies would definitely be better than one. I had felt overwhelmed with this move and her gesture of kindness was amazing to me. But even more, was the message it sent – I see you; I hear you; you matter to me.
While we lived in this small town, I found a best friend. I hadn't had many of those in my lifetime, so it was a wonderful gift. Linda Brannon, like Millie, took the time to find out about me and my family, she paid attention. We were more than just a name on a church roll or people who lived down the street.
Every year at Christmas Linda made hundreds of cookies that she gave to friends and family. She would wrap them beautifully in one and two dozen. But every December would find her on my doorstep with a platter of cookies. Not one or two dozen but at least 8 dozen to bring joy to our family which had swelled to nine. It wasn't the cookies that meant so much to me but the message they sent – I see you; I hear you; you matter to me.
This is the message our children need and want to hear from us – I see you; I hear you; you matter to me.
In Highlights magazine's annual State of the Kid Survey, a nationally representative sample of 6- to 12-year-olds were asked, "Are your parents ever distracted when you're trying to talk to them?" Sixty-two percent of children said yes (Highlights, 2014). That's a lot of kids feeling as if they might not matter.
Take the time today to let your children know that you see them; that you hear them; and that they matter to you.
• STOP what you're doing. Put your cell phone down, turn away from the computer, turn off the vacuum
• Get on their level. Kneel if you need to.
• Look them in the eye.
• Respond to what your child is feeling, not only what they're saying.
• Listen with patience and interest.
This doesn't have to take a lot of time. Give them 3-5 minutes. If they need more time and you need to do something else, tell them honestly. Set a time to get back with them and then do it.
Kids measure love primarily by our attentiveness to them. When you stop what you're doing to listen to what they want to share, look at a picture they made, or touch them with intention, it says I see you; I hear you; you matter to me. Knowing that they matter is the best gift we give to our kids.
I appreciate it when you share. Thank you!