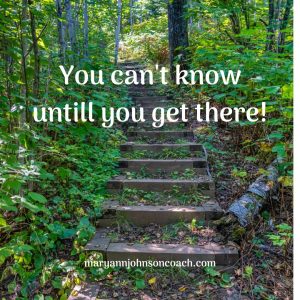 Sometimes parenting seems like a thankless job. Many things must be done. Often, it seems, those we serve aren't aware of, resent, or push away our efforts. I've learned that you really can't know until you get there. That's the problem in a nutshell. Our children don't deliberately set out to be ignorant of the blessings, help, and support we give them. But it can seem like it because we expect them to see through our eyes and our experience. But they can't because you can't know until you get there.
I remember a conversation with a teen of ours who was struggling. She couldn't understand why we were so worried and up in arms. She was fine! Then she had a child and that child became a teen. Then my child understood and talked to me about all we had tried to do for her and how grateful she was. You can't know until you get there.
I recall dragging my kids to prayer in our bedroom each morning. Oh, my goodness, the fussing, snoring, and resentment. Later, much later, one of those same bleary-eyed kids told me that those prayerful moments had meant so much later when she was away from home, alone, and in trouble. She said the memory and practice was a lifeline. It gave her the courage to seek divine help which changed her life. You can't know till you get there.
As a mother of seven, meals were HUGE! I made meals that were attractive and varied. They took time to make and then people didn't want to eat what was served. Getting the response I got, year after year, was exasperating. Recently, one of my daughters said, "Mom, I don't know how you did it. You made such great meals. I struggle every day to figure out what to cook and then to get it done." She has finally gotten there. She appreciates my efforts, but it came over 2 decades after the fact. You can't know till you get there.
A few years ago, one of my sons in his forties, embarked on a challenging educational path. He would call home looking for support, someone who would tell him how wonderful he was and that he could do it. This is the same son who resented our efforts to guide him along an easier path when he was a teen. But here, a few decades later, he was reaching out for that very thing. It mattered to him and he knew the value. You can't know till you get there.
There isn't a timeline for getting there. Just this last week I was talking to a friend who's an expert knitter. She's in her 80's and has a daughter in her 60's. She was showing me a sweater that she'd just finished that you could have bought in any high-end store. It was gorgeous! She said that her next project was a sweater for her daughter. I replied that her daughter was lucky to have a mom who could knit a sweater that would cost a few hundred dollars. She replied, "I don't think she knows or feels lucky." There it is again. You can't know till you get there. One of these days the mother who knits will pass away and then her daughter will miss the sweaters and she'll know how lucky she was all those years.
I'm not saying we shouldn't teach our children to appreciate their blessing. We should. However, sometimes you'll feel invisible and unappreciated. When that happens remember they'll understand and be grateful when they get there. This is a useful practice because just knowing that it takes time to get there helps as we do what must be done for those we love. Knowing that they will eventually get there and that it will matter to them then, makes Now better.