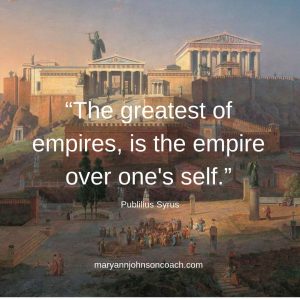 Ok, so how do you do that – get control of yourself?
How do you get your mind to rule over your body? There are many books out there that give some wonderful advice, but I suggest just a few things that any harried mom or dad can do right now – no reading involved.
1. Pick one thing in your life you want to have control over. Make it simple. The harder self-control is for you the simpler the thing you begin with needs to be. The point here is to be successful in one small thing.
If you lack self-control then you must begin small and work up to larger, more important things. It's like building a muscle. You don't begin with a 300# weight. You begin with 3#'s. When you can lift that without trouble then you move to 5# and so on. This idea applies to mastering yourself.
Here are some examples of places to begin – putting your dirty clothes in the hamper when you take them off, hanging up your PJ's every morning, making your bed before its time to get back in it, putting your plate in the dishwasher, and so forth.
It doesn't need to be earth-shaking or even important. What is important is that you're willing to commit to it.
2. Commit – There's a difference in deciding you're going to work on something and committing to it. When you work on a thing you may get tired and quit. When you commit nothing gets in the way. Nothing!
I know when I have committed and when I haven't. The real work for me is committing. Once that's done it's a done deal! I can feel it in myself when I'm committed and when I'm not. You will feel it too.
To manage the next steps, you must be committed.
3. Be consistent. Do it every day. If it's hanging up your PJ's do it every day. Make the effort to never miss a day no matter what it takes! If you do miss a day begin again immediately. Don't take breaks. Consistency is key to taking control of yourself!
4. Stay the course. You have to do this for as long as it takes for it to become part of your way of being, whether it's putting dirty clothes in a hamper, running a mile every day, saving $100 per paycheck, always saying thank you, walking away rather than yelling, or not eating after 7 pm. Some things may become part of your way of being after only a few weeks and others may take much longer. For many people tracking on a chart is very helpful.
Remember that it took me ten years to overcome raging. Ten years. But I never quit. I just kept doing the steps that I had determined would help me gain control over my responses. So, stay the course!
5. Only focus on one or two things at a time. Overloading yourself with to-do's leads to failure. When you work on too much at one time it becomes overwhelming. You don't do well on any of them and then you quit. I'm sure you've experienced this. You go to a class or read a book and have a list of stuff that you feel you need to work on right now. You begin but in a month you're right back where you began. It is called the 1% principle and you can't dodge a principle.
6. Forgive yourself for being human. If you miss a day don't throw in the towel. Forgive yourself and begin again immediately. Beating yourself up is counterproductive. Thinking that you're a failure is counterproductive. Picking yourself up and beginning again is the mark of success!
Making decisions is challenging and energy draining. It's where most people fall short. The purpose of the above steps is to stop having to make so many decisions. Once you've done something long enough it becomes a habit and you never have to decide to do it again. You have mastered that one thing.
When you gain control over one small thing, you're moving in the direction of controlling your empire.
Controlling your entire empire is a lifetime's work and will be worth the effort.
If this article helped you, please share it.