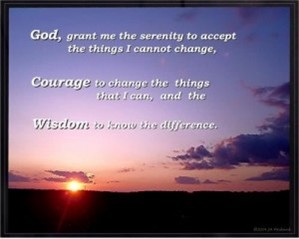 Today, August 6, 2021, I finished reading The Great Divorce by C.S. Lewis for the second time. The first was when I was a young woman in my forties. Now I have read it as a much older woman. I have to admit that my life's experiences have made it much more meaningful than when I first read it. After all, you can't know till you get there. : )
I certainly haven't passed away and entered Heaven or Hell, but I have had far more experience with what the people in the story experienced while on earth.
On the back of the book, it says, "… comes to some significant realizations about the nature of good and evil." However, I was more moved by the knowledge that, yes, in this life, we often choose to suffer. Here are a few phrases from the book that confirmed that.
"There is always something they insist on keeping, even at the price of misery."
"There are only two kinds of people in the end: those who say to God, 'Thy will be done,' and those to whom God says, in the end, 'Thy will be done.' All that are in Hell choose it."
"That's what we all find when we reach this country. We've all been wrong! That's the great joke. There's no need to go on pretending one was right! After that, we begin living."
Back in 2015, I wrote an article about this very topic. This book so moved me in that regard that I looked it up. I am re-sharing it here, updated, because understanding that I was free to choose to suffer or not has been life-changing for me. It will be so for you too. I will put 2021 in front of what I add to the original article. After all, it has been six years, and I will have learned more. : )
Choose to Let Go of Suffering
I have a friend who is very dissatisfied with parts of her life. She is filled with disappointment, dissatisfaction, resentment, and frustration. Some of her struggles are the same as mine, so I have shared how I have learned to be happy, even though life and people can be disappointing. Recently she said, "Well, you are just settling." I have given this much thought, and here is what is true – I am choosing to let go of suffering. I am choosing to be happy by choosing how I will respond to my circumstances.
2021 – I know that I am 100% in control of how I respond. Knowing this has changed my life because it has moved me from being a victim to having personal power in how I look at things and react to situations.
Embracing Serenity
I love the Serenity Prayer by Reinhold Niebuhr. It hung in my childhood home for many years, and I read it often. I didn't understand it then, but I do now.
The philosopher W.W. Bartley juxtaposes Niebuhr's prayer with a Mother Goose rhyme (1695) expressing a similar sentiment:
For every ailment under the sun
There is a remedy, or there is none;
If there be one, try to find it;
If there be none, never mind it.
Serenity is the state of being calm, peaceful, and untroubled. How often have you longed for that state of mind? Did you know it is a choice and not the result of your circumstances?
Making the Choice to Let Go of Suffering!
My marriage has been a good one. I love my husband, and he loves me. But some things caused me to feel resentment, frustration, dissatisfaction, and disappointment. Too many things! Sometimes I suffered. I would hold on to those moments of suffering and bring them out whenever I needed to remind myself why I wasn't as happy as I wanted to be.
As I got older and wiser, I wanted to 'see differently' what was happening or had happened. I began praying about the issue. Then, one day while driving to an appointment, I had this thought come into my mind – "You have suffered by choice." I was stunned. What in the heck did that mean?
So, I asked out loud. "Heavenly Father, I don't get that at all. Show me what that looks like," and He did. I had a memory come clearly into my mind. I could see my husband's actions and mine, and I saw that I chose to suffer. Yikes. I began from that moment to go back into my memory bank, to all the places where I had felt hurt, disappointed, etc., and examine them through this new lens. It became clear to me that I had chosen to suffer when I could have chosen peace instead. My response to what was happening made all the difference.
Not long ago, I read a fantastic book, This Is Not the Story You Think It Is…: A Season of Unlikely Happiness by Laura Munson. She went on a journey in letting go of resentment, frustration, and disappointment. Laura chose a path of happiness in the most challenging time of her life. It confirmed what I had learned for myself, that we can choose happiness even when we are sure we are being wronged. (WARNING: This book does use the F word a lot but was an excellent read.)
What Does Letting Go of Suffering Look Like?
Let me share some mundane examples of choosing to let go of suffering.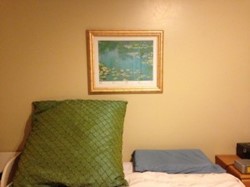 All my life I have wanted a bed with beautiful bed pillows. It wasn't possible for me to have this in my family of origin for many reasons. When I was newly married, it wasn't a real option either. However, I did come to a place where I could finally have them. But my husband doesn't want to move a big pillow to take a nap, rest after work, or when he goes to bed. He can't see the point. Mostly, he isn't aware whether they are on the bed or not. He doesn't see them. They aren't even part of his thinking.
It has been a huge irritation to me for quite a few years. I always get up earlier than Don. He will make the bed but never puts the bed pillows on. When I come into the room, I put them on, and when I come in next, his pillow has been removed so that he can rest or nap. As I look at the gap where the bed pillow should be, I feel resentment and frustration build up. It is disappointing!!! If he loved me, he would put those pillows on the bed, right! Grrrr. You all know exactly how this feels!
So here is what I decided to do. I decided to stop suffering. When I get up in the morning, while Don is still sleeping, I make my side of the bed, putting my wonderfully beautiful bed pillow in place. When Don gets up, he makes his side of the bed, and his bed pillow stays propped against the wall. Every time I walk into the bedroom now, I feel happy. There is the bed pillow I always wanted right where I want it, on my side of the bed. I know that some of you are saying to yourselves, "How tacky is that. She is settling!" I get it, but I have decided not to suffer. I am in control of my response. I am happy with my bed pillow, and it feels great!
2021 – This year, I gave these beautiful pillows away to my daughter, who loves them. I didn't need them anymore. I have moved to a new place. I am grateful that I haven't spent the last six years angry and frustrated at Don over a pillow. That would have been a terrible waste of energy, and it would have been hard on our relationship. Having a kinder, more profound connection with Don has always been more important to me than bed pillows, no matter how lovely. I am grateful that six years ago, I made a choice to put my relationship above them. It has made ALL the difference.
I have also always wanted beautiful towels in the bathroom that never get used. They just hang there and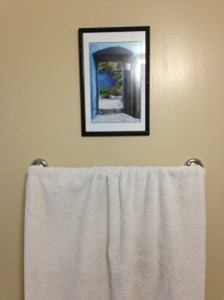 look beautiful. Raising seven children and growing up the oldest of nine, you know that there were NEVER unused towels in the bathroom.
So, when all our children left home, I thought, "Now is the time." Wrong! My husband just can't understand the idea of unused towels in the bathroom or taking the extra steps to use the hook on the bathroom door. So here is how our bathroom towel rack looks – one used towel, unfolded, drying. Very convenient and very "not decorative"!
I have to say this caused no small amount of disappointment and frustration in me for a long time. First, I resented that I couldn't have what I wanted because my husband stood in my way! Then, when I went into the bathroom, I would see that towel rack with its unfolded towel and remember that I never got nice decorative towels, and then I would feel disappointment and frustration. I wasn't happy!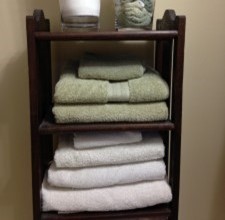 When I decided to stop suffering, this is what I did. I acquired a small shelf which I put in my bathroom. I got it from my mom. I trifold the towels and keep them color-coordinated, and it looks terrific. When I am in the bathroom doing whatever, I look at the towel rack, and it feels so lovely. It is perfect. I don't mind Don's unfolded towel or the fact that my color-coordinated towels aren't hanging up. When I go into the bathroom, I see that I have this orderly, beautiful rack of towels. It feels satisfying to me.
2021 – Since writing this, we have moved again. In our tiny bathroom, there is NO towel rack. None. We have two hooks on the wall. My beautiful green towels are hanging there, drying or awaiting the next shower. I am so glad I didn't live with frustration over having towels hang a certain way to feel content. If I had, I might not feel as good now when I have no towel rack at all. I still have this small antique shelf which looks very near the same today as it did in 2015. And looking at it still brings me a feeling of contentment.
2021 – I had another experience with letting go of suffering in 2016. It was such a clear example of how we burden our most important relationships when we choose to suffer over things we think matter but which, in reality, are not truly important.
Don is a gadget-man. He bought a new stovetop grill at the county fair and was excited to use it. The
following day was Sunday, and we needed to get to an important reception right after church. I said, "Honey, there isn't time to grill chicken today and make it to the reception. You'll have to do
it tomorrow."
After church, Don was nowhere to be seen. I knew he had left early to go home and grill chicken! Sure enough, when I got home, the grill was on, and he was cooking. When we got to the reception, they were cleaning up. The bride and groom had left. We ate at a table alone while others cleaned up around us. I was so angry!
I chose to feel angry because I decided that his grilling was either because he didn't listen to what I had said or he didn't care. I held onto this upset feeling as we drove to the reception and ate in silence. I held on to my ill feelings as we went home and for a chunk of the evening.
Finally, I grew tired of my self-inflicted unhappiness. I asked Don, "Remember when I said
there wasn't time to grill chicken today. I can think of two reasons why you went ahead and did it. Either you didn't hear what I said this morning, or you didn't care what I wanted. But I know you, and you
love me. You're not insensitive. So, there must be a reason I haven't thought of."
He looked at me with a stricken face and replied, "Gosh Mary, I thought I could do it in time. I thought the whole thing would take thirty minutes. I didn't know it would take so long."
I had to laugh because I could tell from his poor face, he had believed it would only take thirty minutes and was shocked to find out it took longer.
At that moment, I wished I had chosen to let go of suffering earlier. We could have felt better as we drove to and from the reception. We could have had more genuine enjoyment talking to the bride and groom's family and sending our love to the newlyweds through their families. We could have enjoyed that cake as we spoke with those of our friends clearing up. So, you see, it could have turned out better despite our lateness if I had chosen to let go of suffering.
Will You Let The Thieves of Joy Into Your Home?
Bed pillows, bath towels, and receptions are not very important. But this principle of choosing happiness, of choosing to let go of suffering, of changing what you can and accepting with grace what you can't, works in things that do matter. It comes up over and over in my mentoring; the need to be correct, to prove that we have been inconvenienced, the need to let others know we have been wronged, wanting to make sure others know how we have sacrificed for them, to name a few. Disappointment, resentment, dissatisfaction, and frustration are the thieves of joy! You can let these thieves into your home or not. It is your choice.
I have given you some examples of the mundane. But I have used this knowledge in the vitally important. I have healed my feelings about old wrongs, embarrassing moments, out and out rudeness and unkindness, out of sorts relationships, and even abuse.
One of my favorite books, as a 16-year-old, was by Victor Frankl, Man's Search for Meaning. It has multiple lessons on its pages, but one of the biggest is that you have a choice in every circumstance. It all comes down to your response. There are two quotes that I can still remember now, almost 50 years later.
"When we are no longer able to change a situation, we are challenged to change ourselves."
"Everything can be taken from a man but one thing: the last of the human freedoms—to choose one's attitude in any given set of circumstances, to choose one's own way."
Taking responsibility for our happiness is wonderfully empowering. When we know that we control our satisfaction, we can choose our response more consistently. We can act and not be acted upon!
I can fight with my husband over bed pillows and towels or not. I can feel resentment and disappointment every time I go into the bedroom/bathroom or not. It is up to me. And frankly, I choose to take responsibility for my response; I choose to let go of suffering. I choose peace!
I hope you will do the same. : )