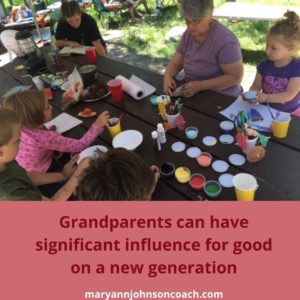 I saw two grandpas' walking with their grandchildren in my neighborhood. Both were interested in what their grandchildren were showing them. Both were smiling broadly and enjoying every minute. The children were holding a much larger finger, tugging them along. It was as if they couldn't wait to get to the next interesting thing to show grandpa. There was a great deal of trust and love.
There is a wonderful dynamic between grandparents and their grandchildren. I have often thought that this stage of life is God's blessing for the first stage – raising our children! Because children LOVE their grandparents, we are in a unique position to be their mentors.
Why Grandparents Are Natural Mentors
Grandparents seem to have conquered busyness, even those who are still working. As a result, we are more inclined to let go of our preoccupation with stuff and focus on a child. We seem to love more unconditionally. We hug, kiss, and smile with greater abandon. We look at our grands, and we see them, really see them. We listen, and we hear, really hear, not just what is spoken but what is felt behind the words. Possibly this happens for grandparents because we have raised our children and have learned, finally, what really matters.
Because of the deep love we feel for our grands, grandparenting is when we can have significant influence for good on a new generation. We have grown and changed; we are improved. We are wiser, kinder, happier, and freer. Because of this, we can help shape character, teach core values, and inspire our grandchildren.
I have been experiencing this for almost three decades now, and the longer I grandparent, the more I understand this truth. It doesn't matter if my grands live in the same home, as some do, or are far away. Through letters, videos, and yearly get-togethers, my grands know me. They know what kind of person I am. They are observant, and they see how I grow. So, if you quizzed them on how I would respond in any number of situations, they could tell you what grandma would do.
Living my life the best I can, and constantly making changes and improving, well, that is how I mentor my grands. It is a legacy that I will leave when I am gone. Sometimes I think that grandparenting is a gift for the challenges of parenting and also a gift to keep us growing and improving.
The very act of living as well as we can, makes a grandparent a good mentor. It isn't about perfection; it's about doing our best.
What life lessons have you shown your grands? How are you blessing their lives? I'd love to hear.