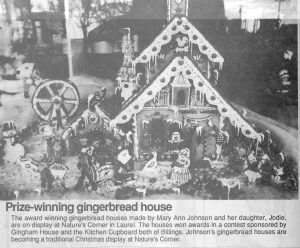 In my time I have made some award-winning gingerbread homes. I've made whole villages. I've made Ferris wheels and merry-go-rounds that actually move. I LOVE making gingerbread creations.
But even more than making fancy gingerbread creations, I LOVE helping kids make their own. In our family, we have a gingerbread tradition. Each year I help my grandkids make houses. Then I go to their school and help their friends make them. Most years I help over 100 children make a gingerbread house.
This is a project that any family can do. When you add popcorn, hot cocoa, a good Christmas story and lots of hugs at the end of the project you have a perfect family activity. This is my gift to you – An afternoon or evening of holiday family fun.
What you need are a few disposable bags and the right frosting recipe! Trust me; the recipe makes all the difference.
How to help kids make Gingerbread Houses:

Call your local school and get some empty milk cartons
Buy graham crackers and lots of small candies, raisins, and mini-marshmallows
Snip off the top of the carton (where it is sealed) and tape it shut. Now it looks like a house
Lay carton on its side on a sheet of paper or cardboard and trace; cut out pattern
Lay carton on its front on a sheet of paper or cardboard and trace; cut out pattern
Lay the pattern on a graham cracker and using a serrated knife (plain will not do!) cut 2 sides, a front, and back. Usually, the cracker is just a bit narrower than the pattern. It won't matter. (If you need to trim a cracker use scissors)
Half a cracker should make a fine roof. If the overhang is too large just trim to the size you want.
Cut a door and three windows from the scraps
Make the frosting and put into disposable decorating bags or the corner part of a sturdy Ziploc. Cut off the tip of disposable decorating bag or corner of Ziploc bag. Don't make the opening overly large.
If using a disposable decorating bag rubber band the back end shut so the frosting stays inside
Using frosting, glue carton to a Styrofoam plate or square of cardboard covered with foil.
Using the frosting glue the sides, front and back to the carton. Add roof pieces. Use plenty of frosting. Jiggle the cracker up and down on the carton to stick it well. Don't press on the cracker or you may break it.
Put the door and windows in place.
Cover the seams one at a time with the frosting and add candy. Royal frosting dries quickly so do only a small section at a time so that it doesn't crust over making candy adhere poorly.
Finish decorating the house any way you want
Tips to help parents have fun while their make their houses:
Mentally prepare for a messy table, floor, fingers and shirt fronts.
Kids will suck on the decorating bag. Get over it!
Some kids will put NO candy on their house; it will all go inside them. Just accept it. : )
Some children will put the door or windows on the roof. It's OK.
Not all children will cover all of the seams. They don't see the carton and a successful house to them isn't dependent on all the seams being covered. Let it go!
Many children will put no candy anywhere but the roof. It is the part they see and the rest doesn't matter to them.
Children under 2 need help. Squeezing the bag can be too hard. Putting the candy on the frosting is enough for them.
Children between 2 and 3 want to squeeze the bag even if it is hard. Holding their little hands in yours helps them just enough.
Children over 3-4 can usually manage this project with only a few instructions. When I work with large groups of children or even just my grandkids, we work at the same pace, one piece at a time, until the house is assembled. Then I turn them loose.
Children over 5-6 need very little help and if they are over 8-9 will resent any help. : )
I have been helping children make gingerbread houses for over 40 years and in all that time I have never seen a child who didn't like their finished house no matter what it looked like, even the house with NO candy on it, unless an adult pointed out the flaws. Resist the temptation to 'do it your way." Don't spoil it!!
If you fix their house so that all the seams are covered or so it looks "good" it's no longer their house. It's yours. Don't be selfish.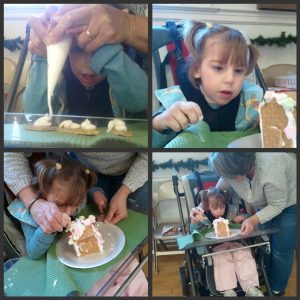 I hope you have a wonderful time making a village for your home and just plain enjoying one another's company. Happy Holidays!
Merry Christmas,
Mary Ann
Frosting for Gingerbread Houses:
Royal Frosting (Meringue Powder)
This frosting is much easier to make and handle. Grease does not break it down and it can be re-beaten for later use. It can be stored in covered container for up to 6 months. Meringue powder can be purchased at some craft stores and any store that sells cake decorating supplies. Worth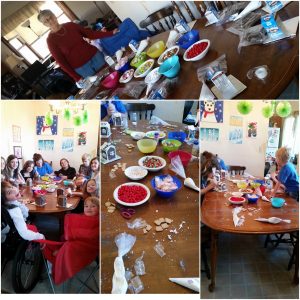 the extra cost!
¼ cup meringue powder ½ cup water
4 cups or 1 pound powdered sugar
Mix the meringue powder and water…beat until it peaks. Add the sugar (1/2 cup more for stiffer frosting) ½ cup at a time on low and then beat on high to desired consistency. This will beat up a bit more quickly than the egg white version.
Royal frosting dries quickly and as hard as cement so keep it covered at all times with a damp cloth or in a tightly covered bowl until you put it into the bags. As you use it on the houses encourage and remind kids to do small sections at a time because if it "crusts up" things don't stick as well.
The BRAG Corner