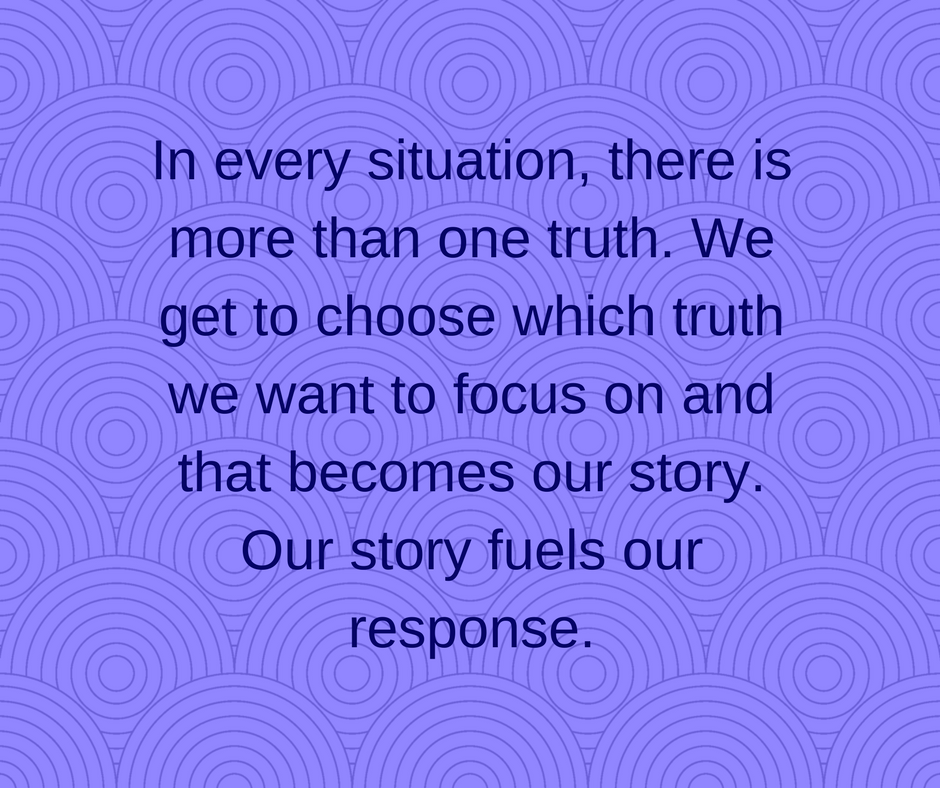 When You Change Your Story, You Change
I was mentoring with a woman I loved and trusted. I was mentoring because, well, I wasn't as happy with my life as I felt I should be. Each week we talked about things that were seemingly out of my control, which were making me miserable.
One day I was complaining about how my husband managed money. I was fed up with having the same discussion over and over again. Finally, my mentor said, "Mary Ann, you're not a victim. You can choose to leave." I was shocked. No, I couldn't. After all, he was my husband, and I loved him. My religion would make leaving difficult and I had seven kids and . . .
Suddenly I realized I could. I could leave. I wasn't a victim. I had the ability to choose how I was going to respond to this situation. I was in control of the story and the outcome.
I'm happy to say many years have passed, and I'm still married to the same man. I love him and occasionally we still have a money conversation but it has changed because my story changed.
You see, at the time, this was my story. "My husband doesn't care how I feel. If he did, he would spend money differently. He does what he wants to do. My life is painful because of my husband." Wow! Feels dreadful, doesn't it?
Now, years later, here's my story. "I have a great relationship with money. I always have what I need. Don's making progress on his relationship with money. I'm supporting him, sharing what I've learned, and enjoying my healthy relationship with both Don and money." Doesn't that feel better?
You might be thinking, "That's the dumbest thing I've ever heard! You still have to live with the results of his choices. How can you be happy? Nothing has changed. You're hiding your head in the sand and being a Pollyanna."
If I weren't living my life, I would agree with you. But I have firsthand experience that has proven when we change our story, everything changes.
In the case of my husband, myself, and our money conversation, when I changed my story it changed me. I no longer felt threatened, put upon, hurt, scared, or angry. It stopped impacting me as negatively.
In Every Situation, There is More Than One Truth
Here is something I have come to understand. In every situation, there is more than one truth. We get to choose which truth we want to focus on and that becomes our story. Our story fuels our response.
Take my family for example. You can say that Don and I raised seven beautiful, happy and productive adults. That is certainly true. However, it is also true that Don and I made mistakes; some of our kids struggled a lot and used drugs. That is equally true. Everyone who knows us gets to decide which lens they will see us from. Believe me, there are people in both camps. And frankly. Don and I have had to decide which lens we would see ourselves and our family through.
Jenny, the daughter I talked about two weeks ago was in the same boat. She could see the man who hit her with his car as a drunkard who lost control and drove on the wrong side of the freeway and destroyed her life as she knew it. He deserved to pay. That was absolutely true. Here is what was equally true and which Jenny decided to focus on. Here was a man in trouble who needed help. He had a family and a life but he was in trouble. She wrote to the judge asking her to not just punish him but to help him.
In every situation, there is more than one truth, sometimes many truths.
In our situation, with money, it was true that Don struggled to manage well. It was true that I felt scared and threatened about money. It was true that Don loved me and wanted to do the best for his family. It was also true that I was acting like a victim and allowing that place to determine my response. Thankfully I chose this truth, which has proven to be as true as any of the others – I am not a victim, I can manage money. I am not afraid of how money shows up in my life. I love my husband, he loves me and he is doing his best.
What You Say Is What You Get
You've all heard this old saying or something like it, "What you say is what you get." It's true. I have lived it.
If you say "My kids are driving me nuts," they'll drive you nuts. If you say "I can't stand my kids today," or "My kids are so sloppy, messy, noisy, naughty, and so on," that's what you'll get. It's what you perceive is happening, regardless of what's actually going on. It's your story. This will influence your response and your ability to be Present.
James Clear wrote for the Huffington Post, "Your brain is . . . programmed to respond to negative emotions . . . by shutting off the outside world and limiting the options you see around you."
In our families, in order to have better outcomes and happier days, we need more options, not fewer when it comes to responding to the chaos, noise and sheer work of juggling all that's required. And there are ways that we can increase our internal resources so that we can and will have more options and respond better – because we will have a better story.
Next week I'll be talking about that. You're going to find it uplifting and enlightening. And remember there's always more than one truth in every situation. Pick the one that will help you get the results you want!
What have you learned that helps you control your story and your response? Please share in the comments section.
Here's to more joy,
Mary Ann
P.S. You can learn more about controlling your thoughts and emotions for better family relationships in my new book Becoming a Present Parent, Connecting With Your Children in Five Minutes or Less. You can also receive a chapter from the book on Touchpoints, creating points of connection rather than having points of contention, FREE by visiting becomingapresentparent.com It can be life changing for your family. I promise!
If you liked this article and found it useful please share.