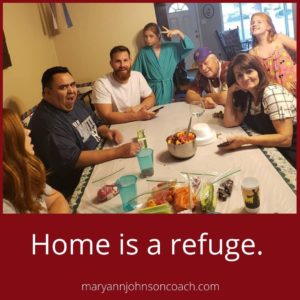 My sister flew to Philadelphia to see her son and his family. Michael picked her up at the airport, and they drove to New Jersey. He is in the military, and she was very anxious to see them all.
Here is the catch – my sister has terrible claustrophobia and can't fly. She has never been on a plane and has anxiety just thinking about it. But she wanted to see Michael and his wife and kids. Watching her prepare for the flight and all the effort she had to make to even get on the plane, let alone stay on it, was a miracle.
She managed to get to Michael's in one piece. Everyone had a wonderful time, lots of good food, fun activities, and hugs and kisses. She loved it. But in the back of her mind was that trip home. Again, lots of worries and getting control of self-talk, using natural nerve remedies, etc. On the flight to her sons, she used an entire bottle of Ashwagandha.
When Rozanne got home, she said that it was such a comfort. She said, "Home is a refuge. It is a safe place to be. The place where you can rest and feel peace."
That is so right! We all want to go home to be safe and at peace. It's what our kids want too. For parents, that is part of our job – creating a refuge where it is safe and there is peace. That is a significant part of the job.
There is a skill we can learn and then practice that will help our homes feel more like a refuge. It helps kids feel valued and heard.
ACTIVE LISTENING
When we actively listen, it is to connect with the speaker and to understand how they feel about what they're saying. It's active and engaged and seeks to hear the words and, more importantly, to hear the heart.
Because this type of listening doesn't come naturally, I've had to develop steps to make it happen more often. They may be helpful to you also.
A. STOP what you're doing. Turn away from any technology, book, or project. If you genuinely can't stop, tell your child you can see this is important to them, and you want to hear what they have to say. Set a specific time when you'll be free and keep it. Saying "we'll talk about it later" is not specific and sends the message you're not available to them, that whatever else you're doing is more exciting or more important. If possible, stop and listen now!
B. Make eye contact with your child. I remember reading that an infant can tell the difference between a face in order and one with jumbled features.
From my experience, I know babies are interested in their parent's faces. They look at their parent's faces constantly and reach out to touch them. Infants want us to look back at them. As we grow older, the desire for eye contact with the people in our lives that matter to us remains.
Eye contact is looking directly into your child's eyes and not looking away at other things or looking down. When we look at our children as we listen to them, it sends a powerful message that we care, we hear them, and they matter.
C. Respond to what your child is feeling, not only what they're saying. When you're actively listening, you'll respond to feelings more quickly and more accurately. This type of response helps your child feel heard. You can say things like, "Boy—how maddening!" or "You didn't like that, did you?" or "How did you feel?" This helps your child know that you view their feelings as valid and important.
D. Listen with patience and interest. Whatever you're feeling, your child will know! They're like energy magnets. If your energy is inwardly impatient, they'll know. If you're dying to get back to your stuff, they'll feel it. If you're bored out of your mind, it's coming across loud and clear. It may all be on a subconscious level, but they know. Hold thoughts in your mind that will help you maintain interest and patience.
For example, you can think, "I sure love this kid. They're so interesting, funny, kind, thoughtful," whatever. Hold thoughts that allow you to embrace fully the moment you're sharing with your
child.
Avoid interrupting. Ask only those questions that help clarify. Your job at this moment is not to teach, reprimand or fix. It's to listen.
Listening to your child is an end in itself. It isn't about a resolution, teaching, making progress, none of that. It's about connection, pure and simple. You can always teach later. Right now, actively listen.
During a day, there are dozens of opportunities to stop and listen. We can't actively listen in every situation. But if we can increase those times we do, it will significantly impact our relationships.
When you practice listening to really hear your child, even if they have made a mistake or you are angry at them for something, it creates a safe place. When kids feel safe, they will come to you more often, even when they know they are in hot water. And as our children grow older, this will be a gift to us.
Practice active listening as much as you can and make your home a refuge.
Share 'how to' with a friend.