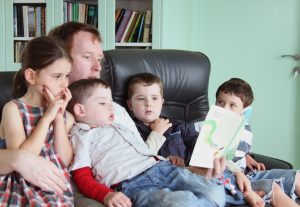 Tightly knit families with good relationships don't just happen. We have to have some idea of what we want and then take one small step towards that bigger picture.
Every family has a culture. They're all different. In my family's culture kids and adults didn't play or work together. Even at family reunions that theme played out. There were activities for kids and different ones for adults.
My mom and dad did a lot of stuff for us but not with us. My dad loved to garden but he did it alone. If we needed to weed or water we were sent out to do it. He did his part and we did our part. My mom planned fabulous birthday parties. She did it all and they were great. We attended. We didn't plan together or organize them together.
I know that there are lots of families with a culture like this. Kids learn and work separately from parents and families spend many hours each day away from one another.
When I was a young mother I had a beautiful garden in our backyard. I usually gardened by myself. I liked the solitude. I would send the kids out to weed. But at some point, I realized that I wanted a different family culture. I wanted a different bond with my children.
So each weekday when I got up at 6:30 I woke a different child up to help me in the garden. I did this all summer. They were not happy about it. But soon we started talking about all kinds of things. They shared what they were feeling with me and I was able to share with them. It was a remarkable summer. The fruits from the garden that year seemed sweeter than ever before.
The Advantages of a Culture of Togetherness
What are the advantages of parents who are present with their children, who foster a culture of togetherness? Learning and working with a child tells them you are concerned about them and that you like them, that they matter. It strengthens self-esteem. It allows children to model what you are doing and to ask questions. They learn more. Deep and thoughtful conversations can come out of casual activity with a mom or dad. Relationships are stronger.
Ways to Create a Culture of Togetherness
But connecting as a family can be a challenge if that wasn't part of your family culture growing up or if you have gotten used to doing your work and learning while your kids do theirs.
A family culture that fosters healthy, connected relationships don't just happen. It takes some work. If we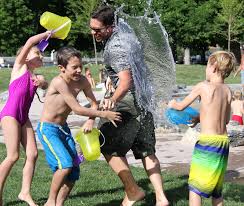 want to have a culture of togetherness we have to do something new. We have to take a small step and then be consistent. Simple/small things done consistently over time bring big results.
Take a look at your current family culture. Is it as connected as you would like? If not, figure out one thing that would make a difference in the feeling of togetherness in your home and then implement it.
Do you need to give up using technology when you're working with or listening to your kids? Do you need to listen more, yell less, play with your children, have more mini-conversations, or tuck them in at night? What is it for you?
You might decide to have your family participate in fewer clubs and classes and allow your children to spend more time at home while you involve them in life's activities: cooking, repairing something, learning a new skill, or playing.
Maybe a morning devotional would benefit your family. How many mornings will you commit to – one, two?
You could try reading together. Reading as a family and then talking about what you are reading creates a feeling of safety and warmth.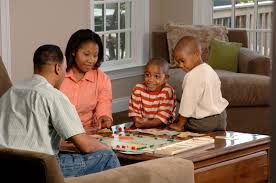 You might consider one evening a week doing something as a family. Keep it simple. Take a walk, play a board game, or serve someone.
For some families just sitting down at the table and eating would be a big accomplishment. If eating together is not something you have been doing regularly why not set a goal to do it once or twice a week. Then be consistent.
Whatever you choose, make a commitment to it. Be consistent and be present. Don't talk on the phone, fold laundry or watch TV out of the corner of your eye. When you are doing that one thing consistently then choose another and go to work again.
And finally, remember being consistent is not the same as being perfect. Perfect isn't what we need as families. What we need is connection and togetherness consistently.