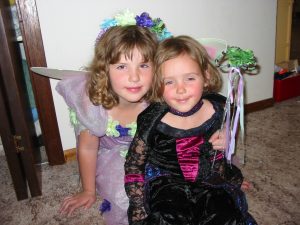 Halloween was one of my favorite holidays. I was young enough to celebrate it in the 1950's and very early 60's. It was a far different holiday than today; no big box stores, just the five and dime and Woolworth's. Very few kids had ever seen a store bought costume let alone owned one.
The big scares for the night were pushing over someone's outhouse, stealing a melon or two and running through the neighborhood in large packs of very mixed age groups. We would go with our friends but we would all be towing a younger sibling or two. Pillowcases were the treat bag of choice and parents never went with us. No one drove to another neighborhood.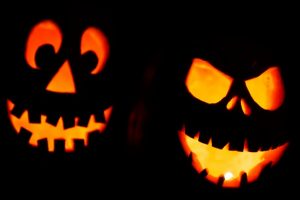 Decorations were carved pumpkins and sheets hanging from trees. There were no moving monsters and skeletons which screeched when you walked by. There was just the occasional dad or teen hiding in the bushes to jump out and scare the daylights out of you.
Treats consisted of apples, homemade popcorn balls, wrapped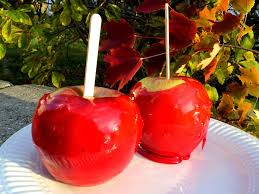 homemade cookies and cupcakes, taffy bites, tootsie rolls, lots of suckers and an occasional, much sought after, candy bar. We were often invited into a home for hot apple cider and cookies so we could warm up.
Our costumes would be admired. For the most part, we were ghosts, witches, gypsies, brides, princesses, scarecrows, superheroes and an occasional Dracula or mummy in a bed sheet. Trust me, our costumes were pretty simple compared to even today's homemade costumes.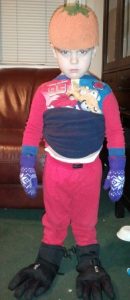 After I turned 9 or ten I don't remember my mom making a costume for me. My friends and I just figured stuff out. When my grandson was three (he is now ten) he figured out some stuff too. He came to his mom with a costume that he had put together all on his own. Sometimes it's good to get out of our children's way and just let them create instead of being so interested in the end result or what other people might think.
A Halloween Trick!
As an adult, I LOVED Halloween because I had such fond memories from my childhood. One of my favorite things was to dress up as a witch. I had a laugh to envy.
One year, just before Halloween, my children watched a movie about witches. It was deliciously scary. They learned that witches have itchy heads and that they can smell mice.
That Halloween after I played my part as a green-faced, long-nosed witch with a fabulously authentic laugh, my five-year-old began asking me if I was a witch. I would give him an eerie smile, open my eyes really wide and say, "Why no, Barry", while I scratched my head. He asked me multiple times.
One day, as I was cleaning under the sink, I discovered that we had a mouse. I hollered to my husband, "We have a mouse under the sink." Barry, who had been standing at my side ran away and thumped up the stairs, all the while yelling at the top of his lungs, "She is a witch, she is a witch."
What Makes Halloween Special?
As funny as that story is, and we still laugh about it, I realized that as much as my children liked the trick or treating they were scared by all the posters, window clings, and more and more gruesome costumes. Times had changed from when I was a girl. So I made a change in the way we celebrated Halloween.
I asked myself what it was about the holiday that I loved so much. It was the night, the freedom, the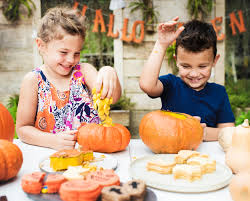 friends and the treats. So we began having parties with other families and made sure there were lots of games, friend's, food and treats. My children never stopped going trick or treating but they would bring their friend's home for games and treats.
Don and I like being home on Halloween. We like talking with the children and their parents who visit our home, asking them about their costumes and such. We have pumpkins and gourds, bales of hay and corn stalks, maybe a scarecrow or two. We keep it simple, not too scary and loads of fun.
How do you and yours celebrate Halloween?
Your shares are the best compliment!