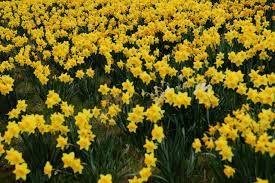 In her book Daffodil Principle: One Woman, Two Hands, One Bulb at a Time, Jaroldeen Edwards recounts the day her daughter, Carolyn, drove her to Lake Arrowhead to visit a daffodil garden. It wasn't just any daffodil garden. It turned out to be five acres of beautiful golden flowers nodding in the breeze.
As Jaroldeen gasped in amazement, she asked the question that everyone who visited the garden asked, "Who did this?" On the porch of a small and neat A-frame house was a poster answering the question.
The first response to how many flowers there were was "50,000 bulbs." The second fact listed was, "One at a time, by one woman, two hands, two feet, and very little brain." The third was, "Began in 1958" (Edwards, Daffodil Principle).
When we multiply small amounts of time, with small increments of daily effort, consistently, we can accomplish magnificent things.
Last week I shared that it took me almost fifty years to learn to read music and almost ten to learn to sew. I had to keep practicing and getting help from those in my life who knew more than I did in order to eventually sew and sing well.
Whenever you hear that a person has achieved an extraordinary goal, rarely, if ever, are you told the process they used—that is, the ordinary actions they took consistently. You only hear the outcome.
We're led to believe extraordinary successes in business, home, parenting or life are a result of significant actions, but they're not—they're a result of daily actions done consistently over time.
I enjoy the story of Naaman found in the King James Bible. Naaman was a captain for the king of Syria, "a great man with his master . . . because by him the Lord had given deliverance unto Syria: . . . a mighty man in valor, but . . . a leper." (2 Kings 5:1).
At the direction of his king, Naaman went to Elisha the prophet to be healed of his dreaded affliction. When Naaman got to Elisha's house, Elisha sent a messenger out to him who said, "Go and wash in Jordan seven times, and thy flesh shall come again to thee, and thou shalt be clean" (2 Kings 5:10).
Wow, Naaman wasn't even going to have to do the consistently, over time thing. He was only going to have to repeat the action a mere seven times. But Naaman was angry with Elisha. He felt the prophet should have come out of his house to see him and he should have done some big thing to take care of this big problem.
He said, "I thought, He will surely come out to me, and stand, and call on the name of the Lord his God, and strike his hand over the place, and recover the leper" (2 Kings 5:11)
Naaman was ready to go away in disgust at the simple instructions he received, but he had a wise servant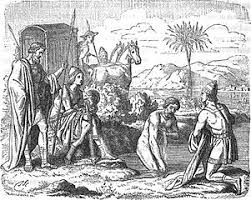 who reminded him of the principle we've been discussing—simple things, done over time consistently, bring significant results. His servant said, "If the prophet had bid thee do some great thing, wouldest thou not have done it? How much rather then, when he saith to thee, Wash, and be clean?" (2 Kings 5:13).
Naaman came to his senses and he "dipped himself seven times in Jordan, according to the saying of the man of God: and his flesh came again like unto the flesh of a little child, and he was clean" (2Kings 5:15).
As parents, I think we are, at times, like Naaman. We know we have problems and issues, but we expect a significant or seemingly important thing to come along and bail us out of our affliction. In reality, it is truly the small and simple things we can do daily that, in the end, will make all the difference.
Understanding this is especially important in parenting because it nearly always takes until a child leaves home and creates their own life to see the results of our efforts to parent well, teach our children and create a wholesome and happy family culture.
While they're growing, it's tempting to let ourselves feel failure because we don't see our children as learning the important lessons that will help them be successful people. Often we feel there is something amiss in our family culture or in how we parent.
Remaining Present while we parent, not checking out because of discouragement or feeling overwhelmed, is dependent on doing simple things consistently rather than searching for a one-time fix.
Have you ever found yourself in Naaman's shoes? I certainly have. But now that all of my children are grown and gone I can look back and see that it truly was the small and simple things that we did consistently for their whole lives that made the real difference. I'd love your comments.