Christmas is just around the corner.
It's a joyous holiday celebrated around the world by both Christians and non-Christians. It's a time to celebrate family, friendships and for Christians, Christ. It's filled with parties, gift-giving, food, and fun. BUT it can be exhausting!
If you're like me, you've had Christmases that when all was said and done, felt disappointing. Oh, the gifts were good, and you got everything on your to-do list done but something was missing. After a few decades of thinking about that after-Christmas feeling, I know what it is for me. I didn't spend enough downtime with my family, I failed to connect heart to heart and laugh to laugh. I was just too busy.
When I pinned this down for myself, I thought, "I bet I'm not the only person out there who feels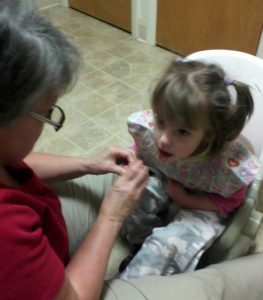 this way." So, I compiled a packet of simple, inexpensive and family-centered activities to help myself and others spend some quality time together at Christmas. I combed the Internet and gathered information and links so you wouldn't have to. You can print the PDF HERE.
Wouldn't it be wonderful to spend five, six or even seven quiet evenings with just you and your family celebrating this remarkably joyous season? I'm with you, it would. We can make that happen by cleaning out our calendar and making a commitment to do it.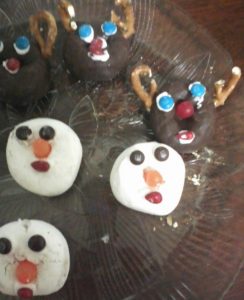 When I first put this together I tried it out. I had a few of my grands over and we did two of the activities. We made donut snowmen and donut reindeer. We learned that frosting and candies do not stick on powdered donuts very easily! We learned that if you don't keep an eye on them, the noses will disappear from the snowmen's faces. (Jack was that you?)
We learned that working on the floor is perfect, as the mess is right where you can sit in it easily! We learned that cutting pretzels for antlers is not as easy as it looks and if you don't do it right you have ears. Reindeer look very funny with ear-shaped antlers. We learned that we love working together and that the whole project only took about 20 minutes. Then we ate!
Here's to spending time as a family, calming the craziness, celebrating together and gearing up for a fabulous 2020. You can print the PDF HERE.
With holiday wishes for joy,
Mary Ann Johnson
Why not share this with someone
you care about. : )