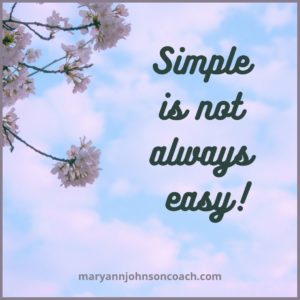 Recently, I had an interesting conversation with a friend and mentee. We were talking about some concepts found in my book, Becoming a Present Parent. She said, "The problem with your book is it's so simple. I loved it when I read it, and it was all so doable. Then two months later, in an overwhelmed moment, I asked myself, 'Can it really be this simple.'"
I laughed. I have asked myself the same thing over the years. It's natural to feel that we have to do some great, fantastic, out of the ordinary thing to fix whatever is causing us overwhelm or pain in our families.
Just this week, I read an article on how to better manage irritations in marriage. The writer gave a simple and straightforward example of how we can get into trouble when someone falls short of our expectations. It was laughable when I considered the angst the couple was feeling and the simple solution the writer proposed. But there it was. I knew that if the couple followed the proffered advice, they would manage better.
The author didn't suggest learning to communicate better, going on weekly dates, getting away without the kids, etc. No, he suggested they forgive one another their failings. I have been married fifty years, and that counsel rang true to me because I have experienced its truth.
Here is the rub – simple does not always equate to easy.
Forgiving someone for not being perfect or not meeting our expectations isn't easy, but it certainly is simple. Far simpler than figuring out how to get away for a few days without the kids. More doable, long term, than going on a date every week. And frankly, more effective than talking, no matter how good we are at communicating.
That is what my friend was really saying – "I know it is simple, but it isn't always easy. I have to bend a bit. I am required to think differently. I must change."
That is what my book is all about – making subtle changes in how we see what we already do every day—making use of those moments when we would typically have contention and instead create a connection. When we approach chores, bedtimes, homework, and meals together with a better story, we get a better result. We do. It is that simple.
But it isn't always easy because rather than blaming the kids or our spouse, we have to come face to face with ourselves. We need to do something different. We must change. Irritating, isn't it. We would rather have someone else change. But the truth is, we only have control over one person, ourselves.
I first learned this concept when I was sixteen and reading Viktor Frankl's book Man's Search for Meaning. He said, "When we are no longer able to change a situation, we are challenged to change ourselves…Everything can be taken from a man but one thing: the last of the human freedoms—to choose one's attitude in any given set of circumstances, to choose one's own way." I didn't understand it then, and it took me decades to understand, but I never forgot.
Here is something else I have learned from my own experience. When we are willing to change how we think, see, or behave, the results are successful and worth the effort. It is always worth it!
It's FREE
If you want to understand what I am talking about when I say you must come face to face with yourself and then make a small shift in how you think, read Chapter four of my book. It's FREE, and it is one of the best and most enlightening chapters in the book. I did that on purpose because if that is all you ever read and implement; it will be life-changing!
Why not share this FREE chapter with a friend who could use a lift, a reason to change, and simple information on how to do it. : )