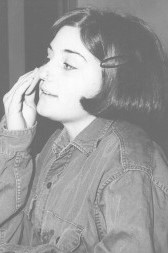 When I was sixteen I portrayed Emily Webb in the play Our Town by Thornton Wilder. The plays about the short life of Emily Webb, her growing, loving and dying. It's about her realization that all that really mattered were her relationships. After her death, she laments that most of us are too busy with cleaning, cooking, work, hobbies, getting through each day, that we miss what matters most.
As you read these lines, you will feel her sorrow and the urgency to look at one another and really see.
Emily: Live people don't understand, do they?
Mrs. Gibbs: No dear-not very much.
Emily: Oh, Mother Gibbs, I never realized before how troubled and how…how in the dark live persons are. From morning till night, that's all they are – troubled…But Mother Gibbs, one can go back…into the living.
Mrs. Gibbs: Yes, of course you can…All I can say is, Emily, don't.
Emily: But I won't live over a sad day. I'll choose a happy one…
Mrs. Gibbs: At least, choose an unimportant day. It will be important enough.
Emily: I choose my twelfth birthday.
____________________________________
Emily: Mama, I'm here! Oh, how young Mama looks! I didn't know Mama was ever that young.
Emily watches breakfast being served and conversations between her family members.
Emily, with mounting urgency: Oh, Mama, just look at me one minute as though you really saw me. Mama, fourteen years have gone by. I'm dead…Mama. Wally's dead too…But just for a moment now we're all together. Mama, just for a moment we're happy. Let's look at one another.
Emily, in a loud voice, to the Stage Manager: I can't. I can't go on. We don't have time to look at one another. I didn't realize…Do any human beings realize life while they live it?
____________________________________
Mrs. Gibbs: Were you happy?
Emily: No…I should have listened to you. That's all human beings are! Just blind people…They don't understand, do they?
____________________________________
I thought about this play as I was looking through old photos and weeping and weeping. I saw my two brothers and my dad who are gone. There were aunts and uncles and cousins, all gone now. Here is the beginning line of a poem written by my living brother not too many years before my dad passed away- "I know this man as father, yet I know him very little." It's a beautiful poem, all about what he learned from my dad that has helped him in his life. Yet the beginning line holds a world of meaning and experience between the two.
Here is an excerpt I found in a letter I had written my dad many years ago. "Thank you for a piece of yourself. The letters from you to grandpa confirmed something I already knew, that as we grow older, we make friends of our family members."
Why is that? Why do our children have to grow up and go away before they become our friends, before we know who they are, who they really are, if we ever even get that far? I think it's because we're so busy keeping track of what they will eat and won't eat, how well they read, how they take care of responsibilities, their grades, who they hang out with, if they speak politely, and all the other concerns of good parents.
We need to be present. We need to listen to each other. We need to ask better questions. We need to look at each other. We need relationships that go beyond just sharing a home or a workspace or a church pew.
I clearly understand being present. I teach it all the time. But being present can be tough. I admit it. I talk with my mom enough. I don't sit and listen to my husband dream enough. I don't know enough about the hopes and dreams of my adult children. I don't call friends enough.
We live as if life will always be the same. The people we love will always be here. We have plenty of time to know them, to love them. But we don't! Life moves on relentlessly. People move away, sometimes they die. Sometimes they just stop being an everyday part of our lives. Connecting with people we love, every day, in all the mundane moments, that is the essence of a life well-lived.
These moments happen at the dinner table, during bath time, bedtime and family time. They happen in the car on the way to the store. These moments happen as we weed the garden, clean the garage, take a walk, and do the dishes together.
They happen when we free our mind from the babble of what must be done next and focus on what is happening now, right now, with this child, with this spouse, with this friend, with this parent or sibling. They happen when we're not so caught up in life that we can't appreciate life.
Being Present is a skill.
We need to practice it with real intent. When we fall short, we practice some more. Whatever we focus on grows and expands. We can use this principle to become better at our relationships. Spend more time looking at your children and hearing them. Don't be as Emily Gibbs laments, "blind people."
If you like this post and it would enlighten a friend please share