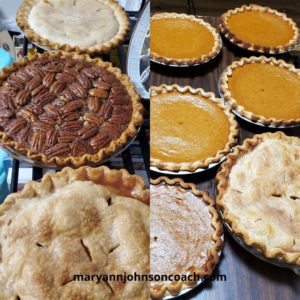 I happen to be a fabulous apple pie maker. When our kids lived at home, and for years after they left, we had up to 12 pies at Thanksgiving. That's because everyone had a different favorite. But we always had a couple of apple pies because everyone loved it. I have to say I have raised a passel of good pie makers in the process.
I also like saving time, and so each fall I bottle apple pie filling. It is divine to the taste and easy to use when you want to prepare a pie. However, if you need a pie today I have given you the Perfect Apple Pie recipe. Get your kids involved with the peeling and rolling. Happy Baking.
Apple Pie Filling (This recipe makes 7 quarts)
4 1/2 c white sugar 1 c corn starch
2-3 TB ground cinnamon 1/4 tsp nutmeg
3TB lemon juice 5 1/2-6# apples (28-30 medium apples)
Peel and core apples. Dice or slice the peeled apples. In a large kettle blend the first four ingredients and add 1 tsp. salt. Stir in 10 c lukewarm water. Cook till thick and bubbly. Add lemon juice and remove from heat. Fill jars leaving 1″ headspace. Put on hot lids and bands. Process in hot water bath canner for 45 minutes.
Perfect Apple Pie
6-8 tart apples, pared, cored, and thinly sliced (6c) or use 2 – 1# 4oz cans (about 5 c) pie sliced drained apples. You can also use bottled apples.
3/4 to 1 c white sugar 2 TB flour
1/2-1 tsp. ground cinnamon Dash of ground nutmeg
Pastry for double-crust 9″ pie 2 Tb butter
If apples lack tartness, sprinkle with about 1 Tb lemon juice. Combine sugar, flour, spices, and salt; mix with apples. Line 9″ pie pan with pastry. Fill with apple mixture; dot with butter. Adjust top crust, cutting slits so steam can escape; seal. Sprinkle with sugar and cinnamon. Bake at 400 for 50 minutes or till done.